Mail Merge in Office 2011 on a Mac
First, you should have an excel spreadsheet with the names and whatever other data you want to use. It should look something like this.
I've named this file names_and_numbers.xlsx.
---
Next, start word and open the Mail Merge Manager.
---
A small window (called the Mail Merge Manager) will pop up. We just need to work through the steps on it.
---
Under #1, select Form Letters from the Create New dropdown choice.
---
Under #2, click "Get List" and select "Open Data Source" and then pick your excel file. For me, it will be names_and_numbers.xlsx.
---
You may get a warning like below, just click OK.
---
You will then be prompted to pick which sheet and which cells, just take the default.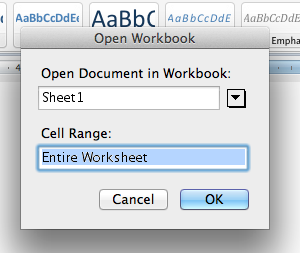 ---
You'll now have the data from the spreadsheet available to your word document. The Mail Merge Manager should look something like this:
---
Now, go to your document and write your letter. Wherever you want customized data from the spreadsheet to appear, just click and drag the placeholders into the document.
---
After you drag the placeholder, your document should look like this.
---
Finish your document dragging placeholders wherever you want them.
---
When your document is finished, you just need to run the merge. You can send the documents directly to the printer or make a new word document with all the personalized letters. I usually make a new file, just to check that things actually look how I think they should. If it's ok, you can then just send this new document to the printer. To run the merge, go to #6 in the Mail Merge Manager and click the Merge to New Document button.
---
A new document will open with a new page for each customized letter. You can save or print it.
---